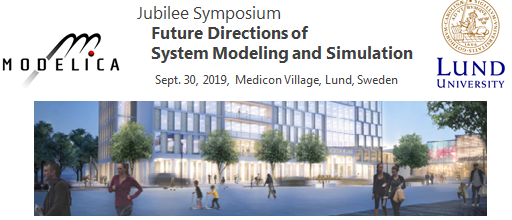 The Modelica Association, Modelica companies in Lund and Lund University host a free jubilee symposium to celebrate the 100th Modelica Design Meeting (the first meeting took place in 1996).
The central focus is on future directions of modeling and simulation. Invited outstanding researchers and industrial practitioners from different communities with a common interest in modeling and simulation will present their view on status, trends and forthcoming developments in this field.
September 30, 2019, Medicon Village, Scheelevägen 2, Lund, Sweden
10:30 - 18:30 Symposium
19:30 - 22:30 Dinner & Celebration
140 seats available, registration required (although the event is free).
Students welcome.
More information, program, speakers, registration
On October 1 and 2 there are Modelica Association meetings in Lund, especially to coordinate the different standards of the Modelica Association. Interested people are welcome to join:
October 1-2, 2019, Elite Hotel Ideon, Scheelevägen 27, Lund, Sweden
Free attendance, registration required.