Table of contents
Letter from the Board
Dear Modelica, FMI, SSP, DCP interested,
the worldwide Coronavirus epidemic influences also the operation of the Modelica Association:
The 2nd American Modelica Conference is now organized as an online conference September 22-24, 2020. The tickets for online participation are $25 only, registration is open. Note that registrations for the pre-conference workshops are currently closed, but will be reopened next week. The conference organizers are still looking for organizations sponsoring the conference. The online conference format gives the unique opportunity to attend the conference, even if you did not plan to travel to Boulder (U.S.A).

The Asian Modelica Conference 2020 has been postponed and will now take place October 8-9, 2020, in Tokyo, as a mixed standard/online conference. So people, and especially, presenters of papers that are not able to travel to the conference location, will have the possibility to join the conference via online services.

The International Modelica Conference that was planned in March 2021 in Linköping, Sweden, will also be postponed, most likely to September 2021. It will most likely also be organized as a mixed standard/online conference.
Even if an online conference has drawbacks, it gives new opportunites. For example, I am currently joining a conference that has typically several hundreds of participants. For the online conference this year about 10000 people have registered, so many people took the chance to join.
A new major version of the Modelica Standard Library, MSL version 4.0.0, was released on June 4, 2020 (see release notes). Many thanks for the extensive and excellent work of the former project leader Thomas Beutlich and the former deputy project leader Dietmar Winkler.
The FMI group is working hard on FMI version 3.0. Version 3.0-alpha.5 was released on July 29th 2020.
If you have interesting news for the Modelica, FMI, SSP and DCP communities, please follow the submission guidelines. The deadline for articles for the next newsletter is Fr. October 23, 2020.
Martin Otter on July 30, 2020 Chairman of the Modelica Association
This article is provided by Martin Otter (Modelica Association)
Conferences and user meeetings
American Modelica Conference 2020 going virtual!
Due to the COVID-19 situation, the American Modelica Conference 2020 had to be postponed and converted to a virtual event. The new dates are September 22-24, 2020, for the main conference, and the free workshops schedule will also be online on the dates shortly before and after the conference dates. The format of a virtual conference will allow us to reach a much broader and hopefully much more global audience. We have come up with the following format to support a global audience and get as close as possible to a live event:
Registration for participants is very cheap at $25 per person only and open at Eventbrite. Please note that workshop registration is currently closed, but will be reopened soon.
All presentations will be pre-recorded and will be available to registered participants between the 22nd and 24th of September to watch at any time.
There will also be a live, virtual Q&A session, as well as live, virtual "Birds-of-a-feather" sessions, starting from 9 am US Mountain time.
You can access the conference schedule online.
All participants can interact with one another through a conference web-app using the Whova, exchange business cards and discuss Modelica-related topics.
Registration for Gold and Silver sponsors is still available. You can interact with participants through the web-app, which also supports registering leads.
Questions to authors can be submitted through the session Q&A available in the web-app or streaming app, and will be answered by authors even if you cannot listen in to the live stream at US Mountain time.
Authors and presenters will receive instructions and support from a professional videographer to produce high-quality pre-recorded presentations.
We hope that this setup will allow us to attract many more participants than are usuallly able to travel internationally. As common even for the smaller Modelica-conferences, we have a good selection of high-quality papers that makes it worth while your time to attend the conference!
The organizers of the 2020 American Modelica Conference, the North American Modelica Users Group and the Modelica Association
This article is provided by Hubertus Tummescheit (Modelica Association) and (North American Modelica Users Group)
Vendor news
TLK DaVE - New version 2.2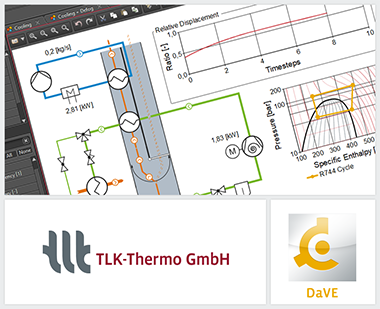 DaVE is a visualization and simulation environment that is suitable for both the post-processing and the online display of dynamic data. The current version 2.2 includes new developments and improvements, of which a small selection shall be mentioned here:
New Round Instrument Variant: Additionally to the standard Round Instrument a smaller variant has been implemented. This version is well suited for configurations with many instruments.
Improved State Chart Instrument: State Points can now be added and edited via mouse. This makes the creation and editing of cycles quick and convenient.
TILMedia Version 3.9.0: The newest version of TILMedia has been implemented.
Network License: DaVE is now capable to use borrowed network license.
For further information see www.tlk-thermo.com, download the DaVE presentation or contact us at dave@tlk-thermo.com.
This article is provided by Roland Kossel TLK-Thermo GmbH
orchideo | easySSP is now available!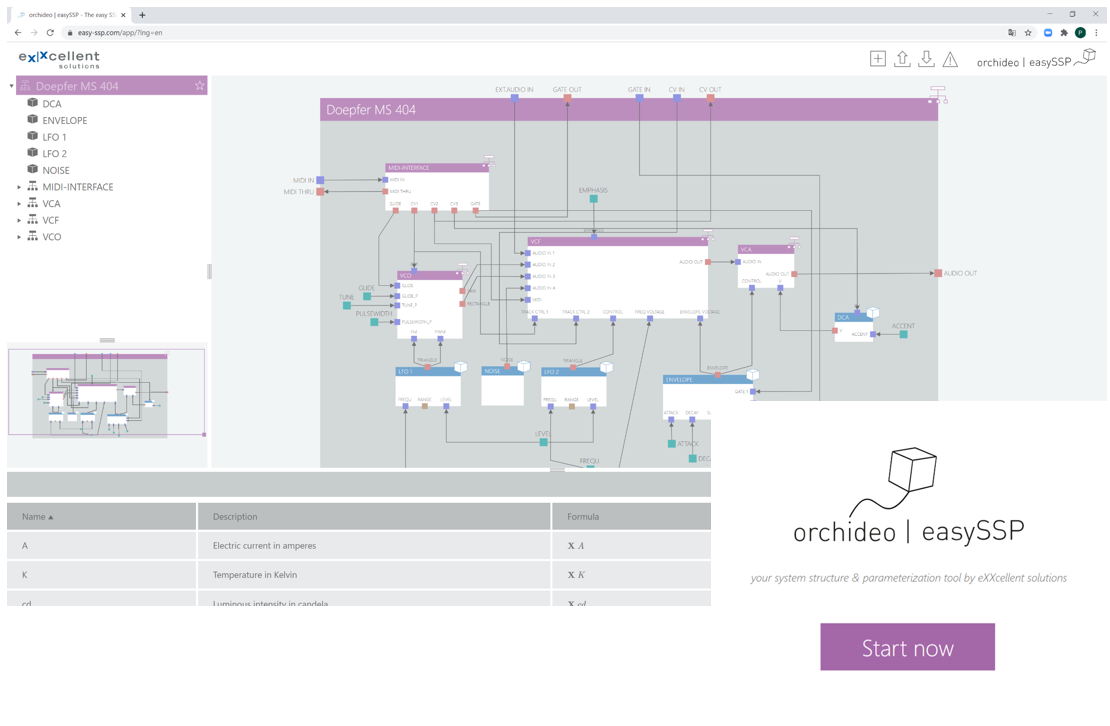 The first version of the SSP modeling tool orchideo | easySSP is now freely available for the community at easy-ssp.com.
SSP – Much more than an exchange format
The SSP (System Structure & Parameterization) standard and tools such as orchideo | easySSP can fundamentally change and advance the world of simulation. With this in mind, we are working together with the SSP work group on the development of the standard. Furthermore, our initiative is to build a network of users and collaborators in order to utilize the full potential of SSP – SSP is much more than just an exchange format. SSP is the foundation and the enabler of a simple, transparent and fast simulation systems development process that promises high quality. From consistent architecture design to efficient collaboration; from the component integration up to the complete model simulation in the target environment.
Get started with SSP
The current version of orchideo | easySSP focuses on the modeling of hierarchical systems and their components, as well as the definitions of their dependencies via connectors and connections. This is a teaser of the coming features that we are consistently developing.
Utilize the benefits of SSP! Check out easy-ssp.com and start now.
Contact us at easy-ssp@exxcellent.de.
This article is provided by Gregor Hermann, Peter Lobner eXXcellent solutions
Simcenter Webapp Server 2020.1 released
Siemens Digital Industries Software is proud to announce the recent release of Simcenter Webapp Server 2020.1. The key new feature being the support of FMU as simulation models.
Additional new capabilities include:
New plot formats (XY plot, bar charts, spider charts, polar plots)
Interface with Excel to run models directly from the server
A simplified Docker-based installer
Support of FMU as simulation models.
Since its first release in October 2018 this server-client, web-based solution provides access to system simulation models coming from Simcenter Amesim. Those models are prepared by the models authors (by selecting proper parameters and variables for the Webapp and defining results layouts) in order to be easily re-usable for model consumers logged-in to Simcenter Webapp Server.
With the 2020.1 release Simcenter Webapp Server is becoming tool-agnostic. It supports not only Simcenter Amesim models but also FMU 2.0 standalone simulation models. So even if you use other system simulation software (for example Modelica-based), as long as this tool supports FMU 2.0 standalone co-simulation export, you can use your models within Simcenter Webapp Server.
As an example here is a model coming from the Modelica "Buildings" library.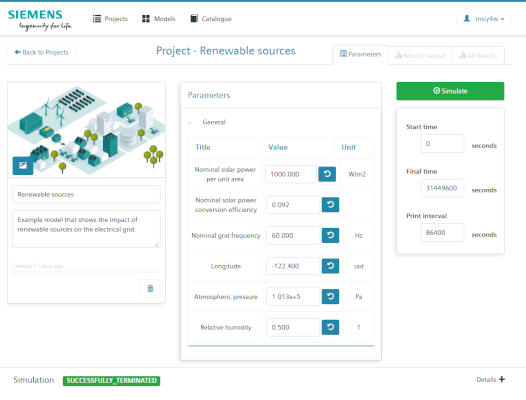 In order to allow selecting the parameters and variables for a FMU a new "edit model" capability has been implemented allowing to filter out only relevant parameters and variables as well as being able to change their titles.
For more information on Simcenter Webapp Server, please visit our website.
This article is provided by Anthony Domi (Siemens Digital Industries Software)
Modelica improvements in the forthcoming Simcenter Amesim 2020.2
Siemens Digital Industries Software anounces a new feature in the Modelica Editor of Simcenter Amesim 2020.2 called exposed variables selection allowing users to conveniently tune the meaningfull variables to be exposed for the simulation phase. Additional new capabilities include:
A blackbox button
An internal variables filter button
This buttons allow to quickly activate/deactivate user-defined filters.
Exposed variables selection from the Modelica Editor
In Simcenter Amesim's built-in Modelica edition tool, when a model is compiled, by default all the component's parameters and variables are exposed for the simulation. However, it is usually usefull to reduce the number of exposed variables to a subset of meaningfull ones before simulating a model. Therefore two options in the toolbar now allow to define which parameters and variables will be visible in Simcenter Amesim once the Modelica component is compiled: a Black-box button and an internal variables filter button. Only the model's state variables and its runtime parameters will always be visible.
With the Black-box button you can hide all your internal variables, thus avoiding to reveal your intellectual property or know-how.
With the internal variables filter button you can write directly the pattern of the variables to be exposed in accordance with the GLOB patterns specification. For example if you type name* in the dedicated text field, all the variables beginning with name will be exposed for the simulation phase. If you type x* y*, all the internal variables beginning with x or y will be exposed.
See the below example showing how a Modelica model made with the BuildSysPro library has been filtered by using the following pattern: ParoiNord* ParoiSud*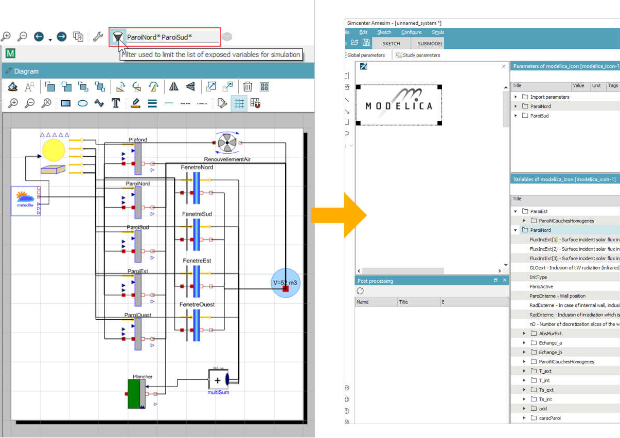 For more information on Simcenter Amesim, please visit our website.
Modelon Proudly Launches New Modelica-based Platform, Modelon Impact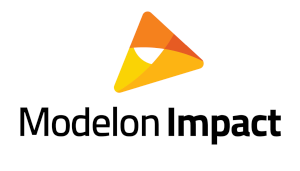 Bring the power of collaboration and decision making to everyone in your organization. Modelon Impact is a radically different system design engineering software. Cloud-native and accessible through your browser, Modelon Impact supports systems simulation, optimization, and analysis to enable engineering insight and decision making.
Modelon Impact is a comprehensive platform featuring:
A powerful yet intuitive and user-friendly interface
Built-in and flexible industry leading libraries
Advanced solvers for tackling dynamic and steady-state simulations
Customizable functionality – Add your own IP and seamlessly integrate in-house toolchains
A free, 4 hour tutorial for Modelon Impact will be presented on Monday, September 21st, starting at 10 am EDT in combination with the 2020 American Modelica Conference. Registration is available through (Eventbrite). Space is limited!
Learn more: modelon.com/modelon-impact
This article is provided by Jocelyn Paslowski, Modelon
Education news
Simulation of Hydrogen refueling with TIL Suite
The latest version TIL Suite 3.9.0 contains a model for a hydrogen refueling station including a refrigeration cycle for pre-cooling and a vehicle tank. This hydrogen refueling station consists of a medium pressure storage tank with approx. 450 bar, a booster compressor, a high pressure storage tank with approx. 950 bar and control valves.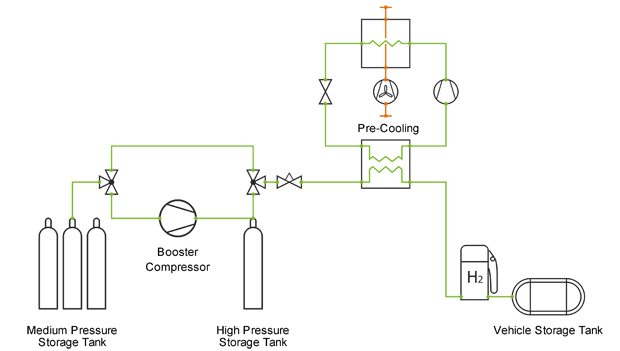 A nearly empty vehicle tank is filled completely in two stages: first from the medium pressure level and then from the high pressure level up to approx. 700 bar. The hydrogen temperature must not exceed 85°C to ensure the thermal stability of the vehicle's tank. The cooling capacity used to pre-cool the hydrogen during refueling depends on the refueling time, the ambient temperature and the initial filling level of the vehicle's tank, among other things.
Hydrogen refueling of passenger cars is generally performed according to SAE standard J2601. The TIL Suite can be used to simulate these refueling processes, to investigate any other refueling scenarios or to identify requirements for new hydrogen refueling stations and their subsystems, e.g. for refueling of heavy commercial vehicles. In simulation studies at TLK-Thermo GmbH and the Technische Universität Braunschweig the mentioned application was examined with regard to possible refueling times and energy demands at different ambient temperatures and cooling capacities. With TIL Suite 3.9.0, detailed simulation results of various refueling processes were achieved and optimization potentials identified.
For further information see www.tlk-thermo.com, download the TIL presentation or contact us at til@tlk-thermo.com.
This article is provided by Ingo Frohböse TLK-Thermo GmbH
Wolfram Virtual Labs
Powering Engineering Education with Wolfram Virtual Labs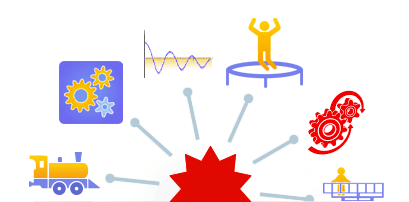 The following new Virtual Labs' library is now available for download from the System Modeler library store:
HighSchoolPhysics: Developed in collaboration with Linköping university contains interactive physics labs related to kinematics and dynamics courses.
The labs are developed using Mathematica notebooks with Modelica models running in the background. For more information please read this blog.
Click here to read the latest System Modeler news.
This article is provided by Ankit Naik Wolfram
Digital Vintage Sound - Modeling Analog Synthesizers with the Wolfram Language and System Modeler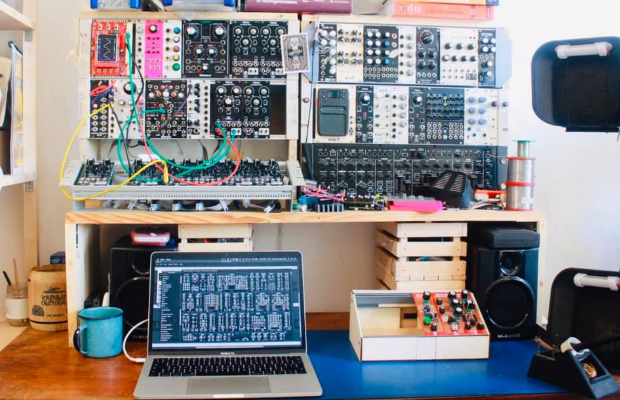 Have you ever thought about making your own musical instruments? What about making mathematical models of your instruments? Whether you're someone looking for a cost-effective alternative, a minimalist with dreams of maximalist sounds or a Wolfram Language enthusiast curious about sound design, you can build a virtual version of a modular synthesizer using Wolfram System Modeler.
Click here to read the entire blog.
This article is provided by Ankit Naik Wolfram
Claytex technical blog - UAV Dynamics library
Claytex publishes a technical blog covering all things Modelica and Dymola.
UAV Dynamics Library
The UAV Dynamics library allows the user to build and analyse the flight dynamics of a UAV in a quick and intuitive modular approach. Read the complete article here
This article is provided by Mahdieh Mehrabi (Claytex)