Table of contents
Letter from the Board
Dear Modelica, FMI, SSP, DCP, eFMI interested,
the 14th International Modelica Conference was a succcesful online event. The proceedings are available from Linköping University Press. For more details, see the article in this newsletter.
The Modelica Association plans to organize the next International Modelica Conference in March or April 2023 as hybrid event. We are looking for a local organizer. In case you are interested, please contact me. Note, the Modelica Association Backoffice can provide technical support, especially with the proceedings.
The next American Modelica Conference will take place in Dallas, U.S.A, Oct. 26.-28. 2022 as a hybrid conference event. For more details, see the article in this newsletter.
If you have interesting news for the Modelica, FMI, SSP, DCP, eFMI communities, please follow the submission guidelines. The deadline for articles for the next newsletter is Fr. March 25, 2022.
Martin Otter on December 17, 2021
Chairperson of the Modelica Association
This article is provided by Martin Otter (Modelica Association)
Modelica Association
FMI news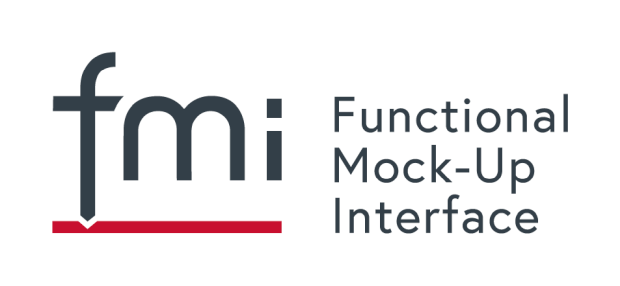 Maintenance release FMI 2.0.3
The FMI project has published a maintenance release FMI 2.0.3 with bugfixes and clarifications, see here
FMI 3.0
The FMI 3.0 standard is in beta.2 stage and we are close to a release candidate RC1. The FMI 3.0 development can be followed on Github. We encourage tool vendors to increase their implementation effort for FMI 3.0 prototypes to provide final feedback and to contribute to test cases which are required for the release. Participation in FMI 3.0 PlugFests is highly recommended. The next one is planned for January 25th 2022.
This article is provided by MAP FMI
Modelica Conference 2021
The 14th International Modelica Conference was a remote and free event this year. It was broadcast from the Concert and Congress hall in Linköping, Sweden, September 20-24, 2021. It has been organized by Linköping University and RISE, in cooperation with the Modelica Association.
The conference opening was live-streamed from Linköping Concert and Congress hall, where the event was originally planned to be held.
Welcome
We would have loved to welcome you in Linköping at the Concert and Congress hall, but unfortunately even after delaying the conference by 6 months, we have made the decision to move the conference online due to the pandemic. We decided to turn this into an opportunity, by waiving registration fees so that more people would have the possibility to get involved in the community. We are grateful to our sponsors and the Modelica Association for making this possible. Another change we have made this year is to extend the conference over the whole week, and we dedicated half of each day to scientific papers and half to tutorials, vendor sessions and industrial user sessions. Two half-days were dedicated to Industrial User Presentation Sessions, that are not part of the proceedings, but an opportunity for actual users to exchange their experience with the community. This year we received a total of 81 submissions, all throughly reviewed by our program committee.
Facts
5 days
16 sessions with 69 presentations
9 vendor sessions
5 tutorials
2 keynotes
2 industrial user presentation sessions
Over 560 participants from over 40 countries
Proceedings available at the Conference Website
Conference chairs
Lena Buffoni, Linköping University
Lennart Ochel, RISE Research Institutes of Sweden AB
Program chairs
Adrian Pop, Linköping University
Martin Sjölund, Linköping University
Conference board
Lena Buffoni, Lennart Ochel, Adrian Pop, Martin Sjölund, Francesco Casella, Hilding Elmqvist, Peter Fritzson, Martin Otter, Michael Tiller
Modelica Library Award
We are proud to announce the winners of the Modelica Library Award 2021, presented by Modelica Association vice-chair Martin Sjölund:
The first place was attributed to the DLR ThermoFluidStream Library by Dirk Zimmer, Michael Meißner and Niels Weber.
And the second place was shared by two libraries:
We would like to thank the Modelica Association board, the Program Committee and all the Writers and Participants for supporting the conference! We hope to see you at the next event.
Contact
In case of questions, please send an email to: modelica2021@groups.liu.se
This article is provided by Lena Buffoni
Conferences and user meetings
American Modelica Conference 2022
We would like to announce the American Modelica Conference 2022, which will be a hybrid conference event and the first opportunity since the 2019 conference to meet your Modelica colleagues in person. The conference will take place at the University of Texas in Dallas at the Davidson-Gundy Alumni Center from October 26–28, 2022. It is organized by NAMUG, the North American Modelica Users Group, in cooperation with the Modelica Association. Join us in person in Dallas or from the comfort of your own home, as the ability to watch streamed talks from the conference virtually will be provided for a reduced virtual conference admission fee.
These conferences are the main event for users, library developers, tool vendors, and language designers to share their knowledge and learn about the latest scientific and industrial progress related to Modelica, FMI, SSP, eFMI and DCP. The program will cover modeling of complex physical and cyber-physical systems, as well as tools, for a wide range of research and industrial applications.
In addition to paper presentations, the conference features several Modelica tutorials for beginners and advanced users, as well as industrial user presentations, vendor sessions, and an exhibition. The previous American Modelica Conference in 2020 was fully online and saw a record number of registrations compared to in-person events, so this time we want to combine the ease of attendance by remote participants from other continents with the fun of a real, in person event with lively discussions in the breaks and an in-person conference dinner!
This conference will have one or several conference tracks with presentations of peer-reviewed papers as all Modelica conferences, as well as a track of industrial user-oriented presentations do not need to be accompanied by a full scientific paper. The abstracts of the presentations will also be peer-reviewed by the conference board. Please see the Call for Papers for details about paper submissions, as well as the calls for industrial user presentations, tutorials, and vendor presentations. The submission deadlines are as follows:
May 1, 2022: Submission of full papers for reviewed papers
June 1, 2022: Submission of extended abstracts for presentation-only contributions and tutorials
August 1, 2022: Notification of acceptance for papers and presentations
September 1st, 2022: Submission of final papers and one-page abstracts
September 5th, 2022: Submission of final presentations
We are looking forward to seeing you in Dallas, TX.
Dr. Michael Tiller, Dr. Hubertus Tummescheit, Associate Professor Luigi Vanfretti, PhD, and Dr. Michael Wetter
General Co-Chairs (Ricardo and Modelon) and Program Co-Chairs (Rensselaer Polytechnical Institute and LBNL)
This article is provided by Chris Laughman, North American Modelica Users Group)
Vendor news
Just Launched - System Modeler 13!
System Modeler 13 was released earlier this month.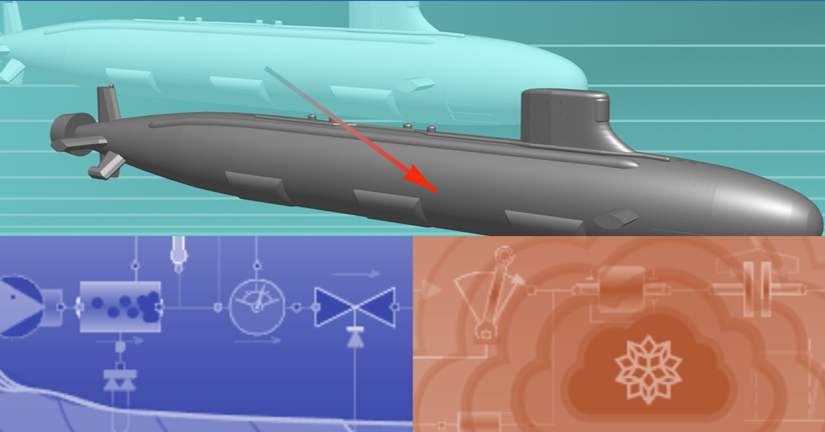 The latest version of System Modeler contains many new features. Some of the significant features are:
Complete Support for Thermo-Fluid Systems: Model your 1D thermo-fluid systems using the Fluid library.
Streamlined Design of Tracking Controllers: Design tracking controllers for system models using a wide range of control design functions, like LQR, pole placement, PID and many more.
System Modeling in the Cloud: Use the system modeling functionality in the cloud and analyze your Modelica models on the desktop or on a smartphone or tablet. Share your analysis with students, colleagues or customers.
Click here to read the latest System Modeler news.
This article is provided by Ankit Naik Wolfram
FMI Physical Terminals between Simcenter Amesim and Simcenter Flomaster
Siemens Digital Industries Software is proud to announce the recent releases of Simcenter Amesim 2021.2 and Simcenter Flomaster 2021.2. These releases represent an important step towards more synergies between our system simulation solutions, in which the FMI standard plays an important role, as shown hereafter.
As an early adopter of the FMI standard, Siemens Digital Industries Software has decided to offer its customers one of the most awaited features of the FMI 3.0 standard right away. Indeed, the Ports and Icons feature that was announced by the FMI Steering Committee in 2018 has the advantage of being fully backwards compatible with the 2.0 version of the FMI standard. Therefore, and in the spirit of the "Stability" Guiding Principle of the FMI standard development, it has been leveraged already to increase the interoperability between Simcenter system simulation tools. As concrete major outcome, Simcenter Flomaster 2.0 FMUs can optionally be equipped with physical ports when imported into Simcenter Amesim, enabling direct connections with hydraulic or thermal-hydraulic components, which also ensures a build-in coherence between physical units.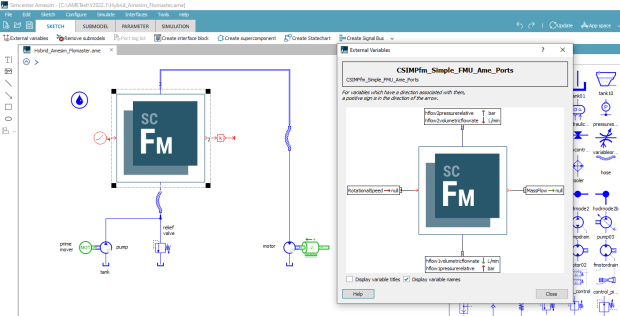 By being able to connect Simcenter Flomaster FMUs directly to their Simcenter Amesim fluid components, users can benefit from the rich capabilities of the low-level FMI standard interface augmented with an improved interoperability and usability within the Simcenter system simulation ecosystem.
For more information on Simcenter system simulation solutions, please visit our website.
This article is provided by Bruno Loyer (Siemens Digital Industries Software)
News from libraries
TLK TIL Suite : H2 system simulations with new components
Models for various types of fuel cells and electrolyzers are being developed in TIL add-on library 'Hydrogen Energy Systems'. Together with the additionally included balance-of-plant models - for humidifiers, water separators, valves, pipelines as well as various turbomachines - the library enables steady-state and dynamic system simulations all around the fuel cell.
At the heart of the simulation of a fuel cell system - based on our TIL add-on library 'Hydrogen Energy Systems' - is a flexible and easy-to-parameterize stack model.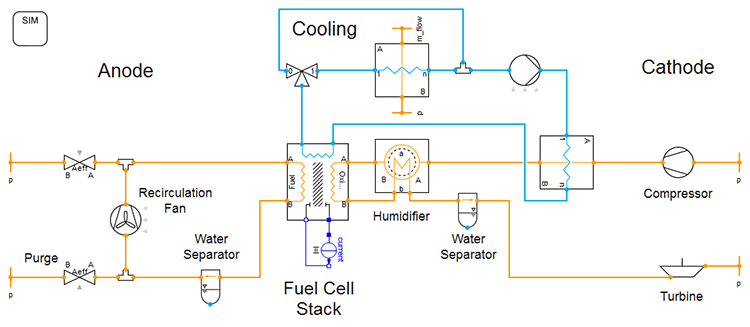 Fuel cell system diagram with stack model (center) anode (left) and cathode supply (right) and simple cooling (top)
Due to the numerically robust modeling of the component and system models, such a system can be efficiently simulated under both steady-state and dynamic operating conditions. Flexible base models for PEMFC and SOFC stacks are available in the TIL add-on. These contain basic, fundamental reaction equations of the electrochemical cells. Thanks to the TILMedia substance data library, chemical and electrochemical reactions in the fuel cell models can be balanced precisely and extremely quickly in terms of energy.
More detailed information can be found at www.tlk-thermo.com
For further information about TIL Suite see www.tlk-thermo.com
This article is provided by Ingo Frohböse TLK-Thermo GmbH
Business Simulation Library v2.0 Released
The free Business Simulation Library (BSL) supports modeling & simulation of dynamical systems in the social sciences, e.g., business, economics, and ecology using the System Dynamics metaphor. Unlike the well-known System Dynamics library, the BSL makes use of acausal connectors so that multiple flows will automatically add up when connected to a stock. Also, mass balance requirements will not be violated when making connections across subsystems in a model. The potential variable within an acausal connection is used to transmit the amount contained in a connected stock making diagrams less cluttered and modeling faster. See the word of mouth interaction between potential customers and customers in the model diagram below, which is an example that ships with the library.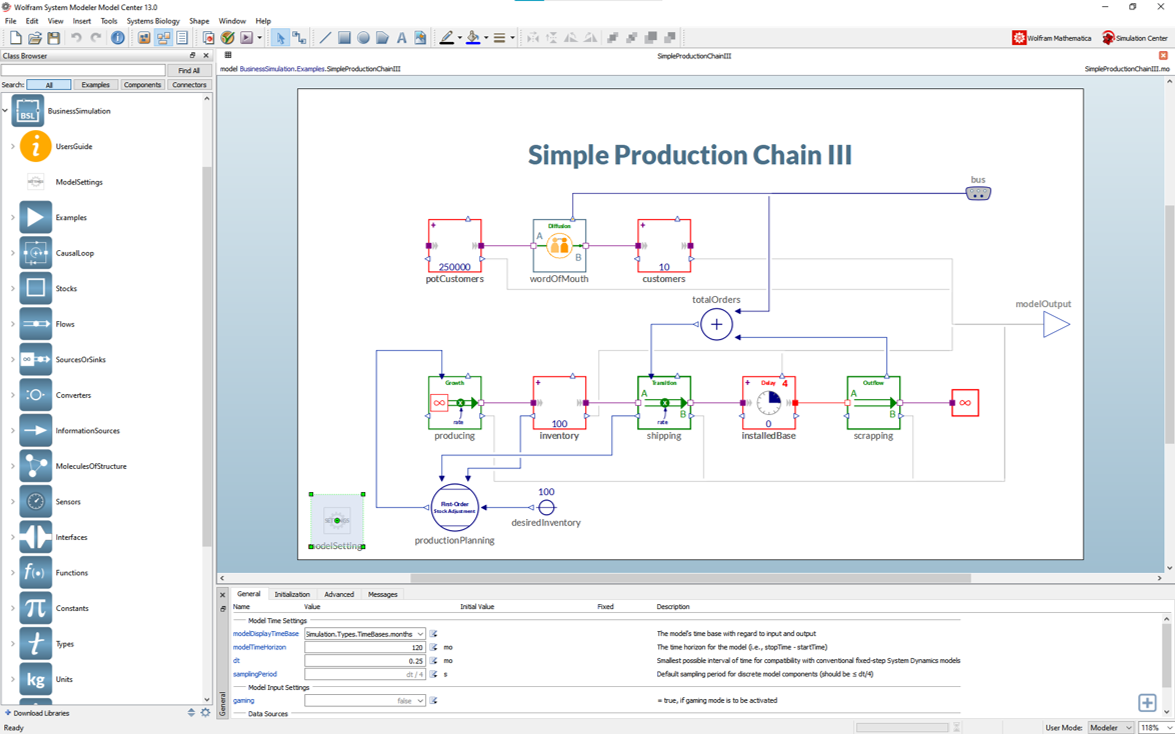 The new release, while fixing some errors with regard to platform compatibility, mainly adds high-level classes for agile modeling of dynamical systems using an impact diagram like framework: Domain experts simply need to provide estimates for polarity, strength, and an (optional) delay time to specify the impact of one variable upon another, where the strength of impact is specified as a proportionality factor or an elasticity coefficient (see the release notes here).
The library was developed using Wolfram System Modeler and can be downloaded from its library store here or it can be downloaded from the developer's GitHub account here.
This article is provided by Guido Wolf Reichert BSL MANAGEMENT SUPPORT & Ankit Naik Wolfram
Education news
New Release V1.1 of the online accessible E-book: Modelica by Application: Power Systems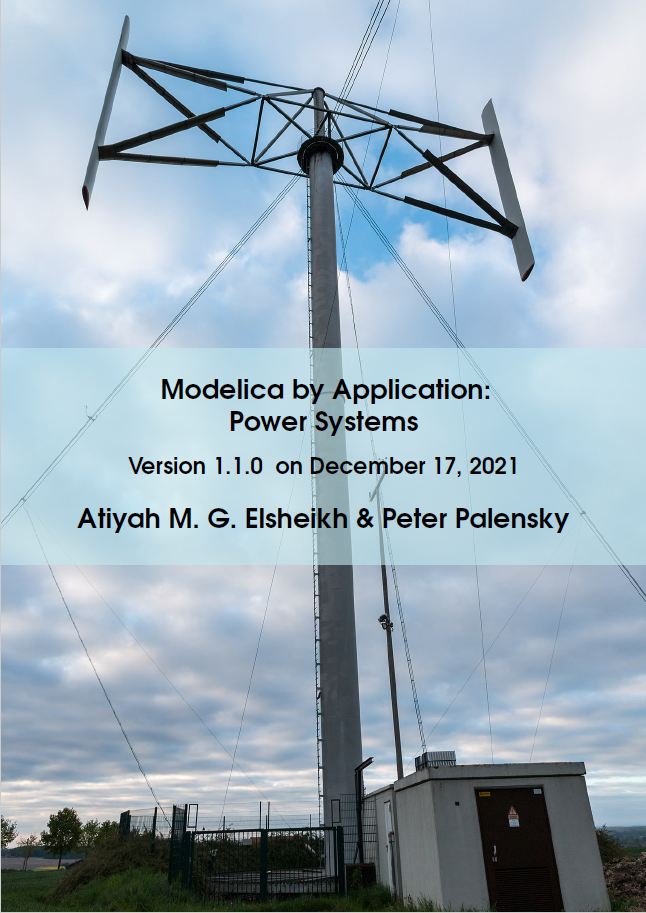 Significant updates include:
Major enhancements mostly based on publications of the last Modelica conference 2021 and recent journal papers

(1 New chapter, major enhancements in 4 chapters, minor enhancements in 4 chapters, +16 pages, +~ 50 references)

Many chapters are ended with a subsection for suggested reading
New Chapter Promising Methods & Technologies
This chapter demonstrates a sample of activities for speeding-up the convergance of a fully satisfiable operation of Modelica-based tools in power system applications.
Keywords: Model reduction techniques, Dynawo compiler and simulator & Julia language
Outline & Further details
View the project website on github

This article is provided by Atiyah Elsheikh (Mathemodica.com)
Free Interactive Animations for your College Digital Electronics Classes
The College Digital Electronics library contains electronics labs for college students. After completing the labs, you will be able to connect your digital circuits with external hardware using Arduinos and understand how to design combinational and sequential circuits. Finally, you will learn how to create adders and implement your own 16-bit digital adder.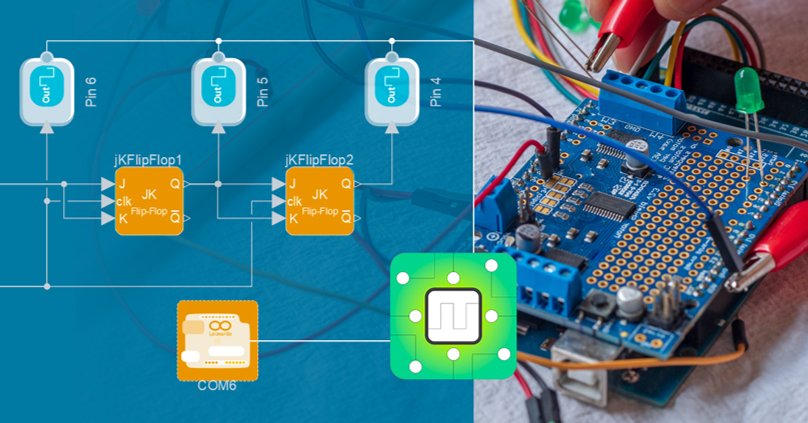 Download the library from the System Modeler library store here.
This article is provided by Ankit Naik Wolfram
Claytex technical blog
Claytex publishes a technical blog covering all things Modelica and Dymola.
Building Your Modelica Library Release
Read the complete article here
How to Build an Adaptable Model
Read the complete article here
Selecting the libraries and models to suit your data
Read the complete article here
This article is provided by Mahdieh Mehrabi (Claytex)